How to use GST Calculator?
Using the Goods and Services Tax Calculator you can quickly and accurately include or exclude GST rate from any price.
Let's know how to use it.
Firstly, visit our Online GST Calculator and follow the steps below.
1. Enter the Price
The first step is to enter the price that can be GST included or excluded.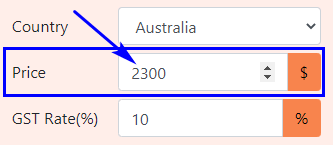 2. GST Rate
You can see that the second option is to enter the GST rate in percentage. By default, it is set to 10%. But you can change it if you want to calculate GST for other countries.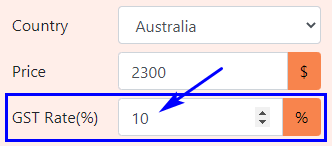 3. Add or Subtract GST
Simply click on the "Add GST" if you want to include a tax on your price. Similarly, click on the "Subtract GST" to exclude GST(%) from the initial amount.
4. Get Results
Finally, you will get the Net Price, GST Price, and Gross Price below. Also, you can click "Reset Calculator" to refresh the calculator and start a new calculation.

5. Change Country
There is a dropdown option to change the country. Therefore, you can calculate other countries' GST too. It will take the appropriate country's GST percentage(%) rate automatically when you choose it.